Why is it Important to Have an Estate Plan?
Sometimes people think an estate plan is only for high-net-worth families, but that is not the case. To minimize taxes and ensure a smooth asset transfer, you need documents in place. It is not just at death that estate planning matters, incapacity is a concern as well.
It also includes planning for:
Minimizing taxes and court and legal fees
Providing for your minor children
Transferring your business when you retire, become incapacitated, or die
Instructions for your financial and physical care if you become incapacitated
Arrangements if you require long-term care or are disabled
Providing for special needs family members or loved ones
Transferring assets to loved ones with protections against irresponsible financial behaviors or future divorce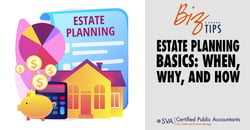 BIZ TIP: Estate Planning Basics - When, Why, and How
How to Create or Update Your Estate Plan
Your estate planning team should at least include a tax professional, an estate planning attorney, and a financial advisor. It may also include others such as valuation experts or insurance professionals. This advisory team will work together to ensure you have an estate plan that reflects your current and future needs. There may be some overlap in the responsibilities with this team of advisors. However, each still has their own expertise and together will provide the best deliverables for you and your family.
Start by selecting a quarterback for your advisory team. Reach out to the advisors you already have experience with as they likely have recommendations for you. If you are not receiving the service you desire, now's the time to try a new approach. Ask your friends and family if they work with someone they could refer you to. Interview your team to make sure you are comfortable with their process and experience.
Once you have assembled your team, the process should follow these steps:
Consideration of your goals and objectives for your estate needs with an understanding of your current and future financial picture
Review of any current estate documents
Development of strategies to make changes to plans or establishment of new plans to align with goals
Drafting the required documents
Funding and implementation of any documents drafted
Repeat for significant life or law changes
What are Estate Settlement Services?
Once you have your estate plan established, it's time to think ahead of who will help settle that estate. The emotional time of loved ones passing can be difficult, yet many decisions need to be made. Getting professional assistance to settle an estate may be the appropriate decision for your family. The designated person or firm who will settle the estate should have the experience needed to ensure that everything is taken care of promptly. The process may take years before everything is settled.
Estate settlement includes (along with what might be much more depending on the complexity of the facts):
Filing the will
Securing property such as homes, recreational vehicles, artwork, jewelry and personal documents
Valuating assets
Paying state-level estate taxes (if applicable)
Filing appropriate federal forms including:

Federal Estate Tax Form 706
Estate Income Tax Form 1041
Individual Income Tax Form 1040

Dispersing assets as outlined in the trust or estate plan
Download our Loss of a Loved One Checklist and our Estate Settlement Timeline:
Every estate is different, and experienced professionals at SVA are here to help guide you through the process.